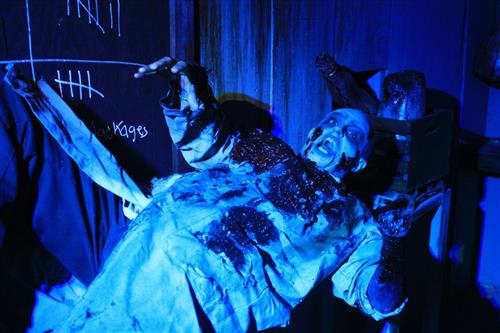 The Haunted Scarehouse 2 Floors of Fear

Regarded by Halloween enthusiasts as Jersey's most original and innovative haunted attraction, The Haunted Scarehouse features two floors of heart-stopping entertainment and the wildly popular Escape Rooms. Inspired by the imaginative genius of pioneer Walt Disney and his theme parks, The Haunted Scarehouse team strives to match Disney's awe-inspiring levels of craftsmanship, detail, and live performance. From the moment you enter the building the award-winning show is full of excitement and intensity. Navigate two gigantic maze-like haunted houses and numerous rooms, interacting with special effects, movie-level props, veteran actors, and fearfully realistic scenes—everything a professional haunted house should be, and impressively more. Come and experience for yourself why The Haunted Scarehouse has been nominated for and won multiple industry awards.

The Haunted Scarehouse has hosted a number of celebrity appearances, and its top-notch sets have been featured in horror films. Scenes from the horror anthology film "Abandoned in the Dark," for example, starring horror legend Kane Hodder, were shot on location at The Haunted Scarehouse. "Abandoned in the Dark" is based on the book of the same name by David Boyle. More information at IMDb: Abandoned in the Dark (2014)
Check back as the Halloween season approaches for schedule and tickets!
Share Your Review
Have you experienced Haunted Scarehouse?
If so, then please considering taking a moment to share your review below.