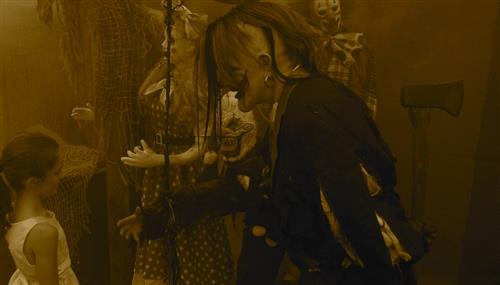 2 TERRIFYING HAUNTS

SINISTER SNEED'S CHAOTIC CARNIVAL OF CHAOS
Jacob Sneed's first foray into the realm of bargaining with the Devil seemed fruitless—yet as his traveling carnival teetered on the brink of bankruptcy, Sneed faced little choice other than to beg the Prince of Darkness to save his doomed festival-on-wheels. But what possible use could the Devil have for pathetic Sneed or his carnival? None—or so it appeared. The diabolical chief of the demons denied his request, leveraging the weak mind of Sneed and driving the pathetic has-been of a businessman to slash his own throat. But Lucifer, the master of deception, knew what he was doing. Upon Sneed's death the Devil reconsidered, bestowing immortality upon the unsuspecting Sneed. Of course, this came with a price… all bargains with the Tempter must come with a price. Though now enslaved to the Devil, Sneed reluctantly has accepted the dictates of his covenant and has embarked upon his CHAOTIC CARNIVAL OF CHAOS FROM TOWN TO TOWN BEGINNING WITH YOUR TOWN, where he has commenced the gathering of helpless souls for the Devil. So enter SINISTER SNEED'S CHAOTIC CARNIVAL OF CHAOS at your own risk and relinquish the notion that you will ever return home. Simply accept the joyless dread that your dwindling days of life now offer, as your exit IS NOT GUARANTEED!!!!!

THE FORBIDDEN? "THE INBRED & NEARLY DEAD"
Welcome to MILLER'S MILL family campground, a summertime dreamscape set deep in a lush wooded forest of the Jersey Pine Barrens — or so the tainted remnant of the House of Miller would have you think. Something here at MILLER'S MILL is amiss, though anyone — indeed, everyone — who has ever come to this reprehensible conclusion never returns to society to share such a revelation… Campers are disappearing… The bodies that have been found, by all appearances, seem to have been skinned alive!Rumor has it that a backwoods family of inbred mutants are kidnapping the campers and bringing them to a CHOP SHOP hidden within the clan's compound. Here the campers are subject to unspeakable torment, where still-conscious victims witness in anguish the extraction of each others' body parts which before their plagued eyes these human scraps are haplessly hung from ancient trees as trophies… NO ONE ESCAPES THE FAMILY ALIVE!!!!!
Check back as the Halloween season approaches for schedule and tickets!
Share Your Review
Have you experienced Scary Rotten Farms?
If so, then please considering taking a moment to share your review below.