Mazes in New Jersey
Haunted Mazes are an absolute staple of Halloween entertainment in New Jersey. Making the most out of the state's farms and open spaces, these attractions provide the setting for mind-bending evenings that rely on visitors using their decision-making skills. Make the wrong turn and you may find yourself back at the beginning of the maze. Having to go through the maze again is not the worst thing in the world; finding yourself face-to-face with one of the maze's terrifying monsters is! Vampires, masked killers, and Frankenstein's monster are just some of the frightening individuals you may encounter at any given corner. The only way to claim victory, and to live to see another day, is to figure out the maze. Good luck!
---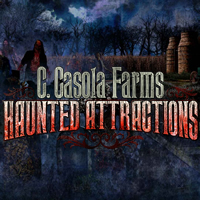 C. Casola Farms
Marlboro, NJ
Featuring 5 Terrifying Attractions!... Read More
---
---
New Jersey may be relatively small, but 8,700+ square miles still leave a tremendous amount to explore. As there seems to be a haunted attraction on nearly every corner, navigating your way to all of the ones you want to experience this Halloween can be quite the challenge. Utilize HauntedNewJersey.com's map to find haunts in your area and to discover new ones across the state's towns and cities.