Zombie Paintball in New Jersey
Grover's Mill may have been the location of War of the Worlds' devastating martian invasion in 1938, but New Jerseyans have never faced a problem quite like this zombie outbreak! The undead have risen from their graves and are making their way towards heavily-populated cities like Newark and Paterson. Armed with a paintball gun and backed up by a team of zombie-shooting commandos, you are civilization's last hope of fighting off the walking dead. You're going to have to put your fears aside in order to make vital decisions and shoot with precision as you deal with this unbelievable threat. Do you have what it takes to save New Jersey from the scourge of brain-eating creatures?
---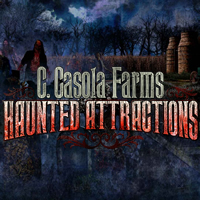 C. Casola Farms
Marlboro, NJ
Featuring 5 Terrifying Attractions!... Read More
---
---
New Jersey may be relatively small, but 8,700+ square miles still leave a tremendous amount to explore. As there seems to be a haunted attraction on nearly every corner, navigating your way to all of the ones you want to experience this Halloween can be quite the challenge. Utilize HauntedNewJersey.com's map to find haunts in your area and to discover new ones across the state's towns and cities.